Wednesday, January 21, 2009
The Funny Papers 1934 Part II
I've been looking at the old funny pages in the Toronto Star again. Everything seems new when you have never seen it before even when it's very old. This one was actually funny, complete with cigar-chomping boss: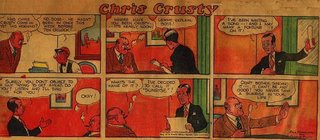 You can see Part I of the article here:
Funny Papers Part I
Not even mighty
Wikipedia
seems to know of Chris Crusty, but I have seen him on ebay! This comic strip was dated December 8th, 1934. Chris Crusty was created by Bill Conselman and Charlie Plumb.
This image was too big to fit on my scanner so I used the Gimp to combine two scans into one. A full page of the Saturday funnies was 15.5 inches wide and 21 inches long.
Subscribe to Posts [Atom]